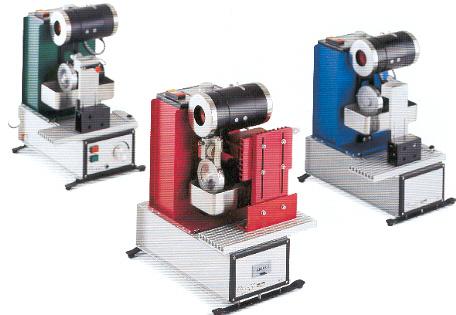 The Series 3000 Well Diamond Wire Saws

This model has been the industry standard for over 26 years and it may be interesting for some to know that the first machine ever delivered by Well is still in operation today. Five versions are manufactured to satisfy the demands of the market. The common characteristics shared by all models are:

Bench Top Design
Variable wire speed control
Automatic Shut-of in the event of wire breakage
Linear Feed of 60 mm (2 inches approx.)
Sample height adjustment
Automatic Shut-off at the conclusion of cut
Possibility to use a cutting fluid
The Cutting Principle of the Well Precision Diamond Wire Saw

All Well Diamond Wire Saws employ a drum with precision threaded pitched grooves machined into the surface for holding the diamond embedded wire. The diamond wire of 33 feet in length is attached and wound onto the drum using a winding device, mounted onto a ballscrew shaft of identical pitch as the drum, and connected to a motor that rotates in both a forward and reverse direction. A loop in the wire is attached to a tensioning pulley for maintaining the precise perpendicularity of the cut while moving across the sample. Depending on the model of saw being used the sample can be cut from the inside of the loop outwards or from the ouside of the loop inward. Consistent force (feed rate) of the wire against the sample is achieved by means of gravity. The saw's motor housing rides along precision guideways on ball bearings. In addition to the ability to adjust the force of the wire the speed of the wire is also adjustable via a continuously variable potentiometer


The Model 3032 Precision Horizontal Diamond Wire Saw
As the name implies the Model 3032 cuts samples with the wire travelling horizontally. The sample can be positioned inside the loop thereby allowing for accurate positioning prior to and viewing of the sample during the cutting process. The sample holder is attached to a counter-balanced arm that uses weights to establish and maintain the proper amount of force throughout the entire cut or slice. Tensioning of the wire is also accomplished through the use of weights. This saw allows the use of particularly thin diameter wire (down to 0.08 mm). Very often users choose to mount a microscope on the saw so that accurate positioning of the diamond wire can more readily be accomplished or to watch the cut or slice while in progress.
A precision micrometer is supplied as standard equipment to facilitate fast and accurate positioning of the sample.
The Precision Diamond Wire Saw
horizontal construction. The sample
feed by a table using gravity and
especially suitable for small samples
needing sensitive adjustments.
Like model 3242 the sample is located inside the wire loops and the progress of cut
can be observed using also a microscop
Horizontal Wire in position
Infinitely variable wire speed
Automatic shut-down of the saw upon termination of cutting or in the event of wire breakage
Equipment for operation with cutting fluids
User-friendliness
Very easy access to the most important
functional elements
Easy servicing
Long service life through perfected design and
construction
Largely maintenance-free
24 months guarantee
L x l x h 450 x 320 x 310mm weight 17 kg
The Model 3242 Precision Vertical Diamond Wire Saw
| | |
| --- | --- |
| | A slotted table enables the operator to position the sample in both the axis while the sample holder rotates throughout 360 degrees for proper orientation of the proper cutting axis. The Model 3242 affords the operator the option of positioning the sample inside the wire loop thereby allowing a clear view for positioning and watching the cutting in process. Also, two micrometers are supplied standard on this version - one for accurate positioning of the sample, the other for setting the depth of a slice or cut. An adjustable electrical end-switch signals the unit when the desired depth of cut is obtained and the motor is automatically shut off. |
The Model 3241 Precision Vertical Diamond Wire Saw

| | |
| --- | --- |
| | A slotted table enables the operator to position the sample in both the axis. This model is an inexpensive alternative to the Model 3242 however offers the same degree of precision cutting. Limitations include only being able to use the outer radius of the loop; therefore the sample is mounted outside the loop and all cutting is carried out by moving the outer radius of the wire towards the sample. |